Custom Split levels & Sloping Blocks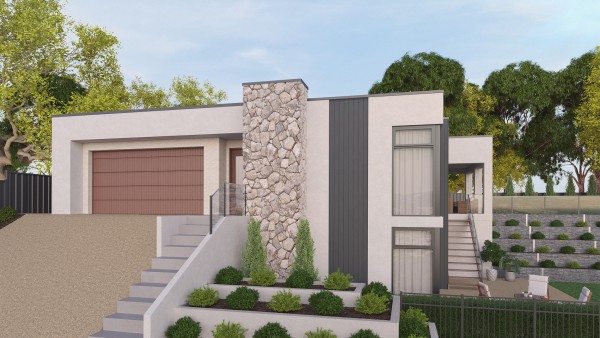 Many builders run a mile when they see a difficult site or sloping block requiring a unique solution.
At Rossdale, we embrace such challenges. Since 1980, we've built award-winning homes on land of every size, shape and slope.
A split level is simply the change in floor level to better adapt a home to a site that has a reasonable slope.

Rossdale Homes have been building split level homes for many years and are experts in this field and know how to get the best from a site.

A split level can be thought of as installing retaining walls as an integral part of a concrete slab rather than externally to the home. Simply cutting and filling a site with a significant slope is generally not allowed by regulators and the trick is trying to strike the best balance between using a split level, external retaining walls, concrete up-stands and deepened rebates to create the most cost effective, user friendly and aesthetically appealing outcome.

While steps required by the split in levels are used as little as possible, the change in floor levels can enhance internal spaces and give an opportunity to create differing ceiling heights and points of interest resulting in a unique home.

Two storey homes can also utilise splits in floor levels, these are generally referred to as tri-level homes.
The Process
When commencing on preparing a split level design home, care and attention should be made to firstly assess the sites terrain.
A visual site inspection is essential to not only get to see the site but also to get a feel for the site and adjoining area.

After the on site inspection a detailed contour plan is required to enable a concept sketch to be prepared. An in house discussion is then had between the client, building designer and building consultant. At this point the home owner brings there ideas and requirements after which the designer commences the initial plans. Our building consultant acting as the project manager coordinates the interaction between client, designer and Rossdale Homes, the builder office staff.
Once the initial sketch has been done a price guide is then worked out. The site plans will show where the splits may be, their various levels and the extent of stairs/steps between the various levels. From this a budget will then be determined as to what indicative costs will be especially the potential unknown cost such as site-works and footings are concerned.

Building on sloping site requires a lot more care and attention. Crafting the design to make maximum use of the terrain, views , on many occasions working around existing trees and so on.
---
---
All our home designs can be built with or without a split.
Below are examples of designs we have built with splits in them.
---
---