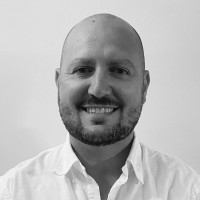 Contact Details
0402 471 977
With nearly 20 years in the building industry, I firstly studied and became a building estimator with McCracken Homes (unfortunately no longer a builder) to which I specialized in residential housing, govt tenders, multi townhouse developments and special projects. My previous employment before entering the building industry was a sales representative for Coca Cola, my background at Coca Cola led to the opportunity of consulting from estimating in 2010 which I have not looked back and enjoy meeting new people every day and relish the challenge in a tough and competitive industry.

I started with Rossdale Homes back in March 2013, in that time I have excelled in all areas making the Rossdale 'Team of the Year' five years straight and also in 2017/18 receiving the prized company honor of the Rossdale Homes green jacket which is awarded to an individual in the company for recognition of excellence and leadership.

*Rossdale Homes 'Team of the Year' 2014, 2015, 2016, 2017, 2018, 2021
** Green Jacket Award 2017 / 2018

My main drive with every one of my clients are referrals, Adelaide is a small place and if you are not doing the right thing then word gets around pretty quick so I believe it's of high importance to provide the enjoyment of building a house and keeping you informed throughout the process which is why I have many repeat clients and this is evident by the many reviews online with the builders forums mentioning my name with the service and expertise making them very proud of their new home.

A quote that is my motto and drive every day with Rossdale Homes 'If I'm not servicing and fulfilling my clients needs, then my competitor will' … this has been part of my success.

I specialize in sub-divisions, knockdown rebuilds, split level and custom design homes. I realize that building a new home requires time and patience, let my background experience help you with councils, developer requirements and encumbrances as no project is too big or small.

Look forward to meeting soon for a chat.
---
I am available at the following display village:
---
My House and Land Packages:
---
What our customers say about us:
D McKay
Hi Leon
I have just finished building an investment property with Rossdale Homes. I met with Leon Margaritas initially when he was with another company and he has looked after me extremely well. He understood what I expected and how I wanted the project setup and I cannot thank him enough for his professionalism and integrity. His follow up calls to see how the project was going made the whole process more personal and very easy.
The building went ahead without any problems and I have been very impressed with the finish and competency of all the trades involved and the project was completed in the timeframe allowed. The office staff were also very efficient and made sure everything was covered from the contractual and selection side of things.
I would definitely recommend Rossdale homes to anyone looking to build their first home or any other property.
D McKay
---
D Poulton
We have been working closely with Leon Margaritis from Rossdale Homes since June 2013. He has been an absolute pleasure to work with and has always been there for us if ever we needed help with any queries regarding the design process of our home or just basic questions that we were unsure off. He has helped us greatly in the design of our house and we couldn't be more happier with the end product. As this was our first home we were very cautious about hidden costs etc in our contracts. Leon has done his utmost to advise us from the start about any costs that may pop up in our fixed price quote which has helped us a lot in organising our Finances etc. Overall we feel we are very fortunate to have met Leon and to have him as our builder and cannot wait to see what the final product looks like once its all finished.
D Poulton
---
Mike Semmler
Chairman and Board Members,
I write to you on behalf of my wife and myself, to commend the work which has been done for us by your company.
Our first building having gone into liquidation, we trusted our salesman, Leon Margaritis to do what he felt best for us. I have recently retired and have never owned, let alone built a home, before. We were not disappointed when Leon chose Rossdale as his new employer.
He listened to us, showed personal interest in us and our circumstances and your company dealt very generously with us. In Leon you have a man of integrity who relates well with people, now in your employ. He is a valuable asset. We have certainly trust him.
Building projects are complex to say the least and we want your board to know that our site manager, Matt Leonard, did not resile from the challenges our project presented to him. An outstanding manager, his good people skills, energy and honesty were on display. Very pleased.
Steph became our customer service manager, and is transitioning from the understandably "cannot do" finance department to the expected "can do" customer service role. She too has potential in her new role and should be encouraged.
It has been a good experience at Rossdale Homes and we would not hesitate to encourage others to consider your company when building.
Yours faithfully,
Mike Semmler (Rev Dr)
---
J Mburu & L Kamunya
Our experience dealing with Mr. Leon Margaritis has been very wonderful. He has been very helpful, professional and a source of great knowledge. For us been first time home buyers, Leon has made the whole ordeal painless and stress free. Leon takes time explaining each and every detail and is always available to answer our questions. He was very patient with us when choosing the house plan that suited us and we are grateful for the plan he came up with. We would not hesitate dealing with Leon again and definitely will recommend him and Rossdale Homes in general.
thanks
J Mburu & L Kamunya
---
Trotta (Port Vincent)
I'd like to thank you Leon for your positive approach to our tricky building project. Nothing about our project has been standard since we had a sloping block of land, in a rural area and faced challenges for approvals for everything from septic system management to the orientation of the building on the land and a few little hiccups along the way. Leon is clearly a team player, listening to what we needed and then working with others to get the best outcome for us. He was always enthusiastic and keen to help, as well as being quick to respond to our calls and requests. His honest, helpful and knowledgeable approach really helped us on our way.
Trotta (Port Vincent)
---
Battersby (Semaphore)
My family and I were trying to build a house ... we have had many hiccups along the way and since moving to Rossdale and with Leon Margaritis, he has been helpful, knowledgeable, friendly and reliable and has been able to provide us with the answers we need to finally build our dream home . His ability to go that extra mile has been outstanding and appreciated.
Battersby (Semaphore)
---
H Corda (Plympton)
"With Leon Margaritis, I can assure you that we were well looked after. Our phone calls were always returned and emails replied. Last year, due to our very unique circumstances Leon went all out in trying to accomplish everything beginning from design, selections and up to contract preparation was complete in record time. Service was always with a smile and despite our numerous changes, Leon patiently carried everything that were asked too. Essentially, Communication was always flowing which is key.
In light of the above, would have no hesitation to award your Leon Margaritis the full 5 stars."
H Corda (Plympton)
---
Flores (West Lakes)
"My husband and I were very impressed with the service from Leon. He made us feel comfortable/reassured during the planning process by taking the time to explain things simply and thoroughly. He understood our needs as a young growing family and provided ideas on what he thought a perfect home for us would be. All our phone calls were either answered straight away or returned promptly."
Flores (West Lakes)
---
M McDermott (Sommerton Park)
Leon Margaritis, I just wish to express our sincere thanks and appreciation for the work you have done with us since December in bringing together a concept plan we had in our heads for our new Home. We have built 4 homes since 1985 but this was the first we have done from a blank canvas.
Whilst there are always issues with such a project both Jenny and I found the manner in which you personally managed the process was the main reason for the project from concept to contract sign off running smoothly and successfully.
I want to thank you for the help and guidance along the way and your guidance working with us on the selection task.
I would most certainly have no hesitation in recommending the service offered by yourself and look forward eagerly to the construction phase.
Once again thanks for the generosity and Fantastic Service.
M McDermott (Sommerton Park)
---
Binks (Gawler)
Just finished building, I am really happy with my home, The service I was given was excellent by office staff and consultant Leon Margaritis.
I was happy with the speedy build time considering it was a large house and happy with the finished result (although some small changes are always needing to be picked up on and changed).
Binks (Gawler)
---
Semmler (Broadview)
Leon Margaritis has, beyond expectations, taken my wife and myself through the set back of a builder ceasing to trade, journeying with us to obtain a new contract with a reputable builder so that we can complete our home.
In that time of personal turmoil for himself he has kept in touch with us, understood our needs and has not overlooked the detail of our original plans.
He listens, he understands his industry and is accessible and has earned our highest respect.
I was personally impressed at his interest in us as people.
Semmler (Broadview)
---
M Polimeni
I wish to commend Leon Margaritis for going above and beyond his duties. He not only performed his job thoroughly and flawlessly, and I found him very punctual to return my phone calls to him with any concerns I had. He took on the task of correcting and rectifying previous errors from the pre-existing plans I had given him. He also liased and re-designed plans which I had for my existing residence for a carport which I needed to construct, which was a Council stipulation before I could go ahead with plans for my new dwelling. He saved me $10,000 on the carport construction and also added value to the existing dwelling by improving the access to the house and taking it away from the corner.

Leon took on a very difficult project in this situation and amended already approved plans to be to my greater satisfaction.

Regards

M Polimeni
---
C Keynes & J Morris
My mother and I are currently building two homes next door to each other with Rossdale homes.
We have dealt with Leon Margaritis right through the process, from the very early stages of thinkings and wonderings to signing contracts and moving to the construction stage. Throughout the entire process Leon has been very patient and extremely helpful.
My mother spoke to Leon on the phone even before we met him and his manner certainly encouraged her to have a look at the display homes at Northgate. We first met him at the Rossdale display homes where he was informative, not pushy and had all the information we needed at his finger tips. I think if he had approached us in a more high powered way rather than in the quiet but confident manner he did we might have been "put off" as neither of us had sold our homes or made any real decisions.
Leon has always been available and accessible and extremely approachable. He has spent the time following up queries and then explaining things carefully to both of us to ensure we understand processes.
Leon has helped make the whole process pleasurable.

C Keynes and J Morris
---
L & E Crompton
How would you describe your experience with Rossdale Homes?

Overall fantastic love the new house finished beautifully Leon deserves special mention would not have signed up if it wasn't for him. We were 99% signed up with another builder. But they never returned calls, never replied to emails etc. Whilst waiting for their correspondence we dropped by Rossdale display home and met Leon. He did exactly what he said he was going to do. Every question we had he answered. When unsure he said I will find out and get back to you and he actually did. We had some quite specific requests and he wasn't fussed at all. We soon realized Rossdale was for us and we would end up with a better home. It was definitely Leon's cal relaxed manner, easy going nature that got us on board. Not an aggressive salesman just did his job really really well.

What do you particularly like about your new home?

The overall quality looked at many builders and Rossdale seemed the best quality at still affordable price.

Looking back over your experience of building and moving into your new home, how would you describe the process?

Straight forward, easier than expected. Far easier than friends who have built with other companies.
---
M Polimeni
How would you describe your experience with Rossdale Homes?

My experience in general was very good Leon was exceptional. My Foreman was great as well.


---
Natasha
A big thank you to Leon Margaritis (sales consultant) and Michael White (site supervisor) for all their help and guidance, to all the Rossdale trades people that contributed in building my house, and to the office staff, Stephanie (customer service coordinator), Linda (accounts), Teresa (selections), that kept me informed throughout the build process.

Before deciding on Rossdale most of my weekends were spent going through different display homes with my mum (always good to have a 2nd opinion!) and we kept on going back to the Rossdale ones at least 3-4 times! Leon I found was knowledgeable about the build process, and that gave me the confidence to go ahead with Rossdale.

So, to anyone that's looking to build a new house I can highly recommend Rossdale Homes, excellent workmanship and build quality, house was completed within time frames, prompt response by staff about any queries, and just really nice home designs to chose from.
---
Sarah & Danny
Very happy with our home, we highly recommend Leon Margaritis who was our building consultant. He helped us through some challenging times with finance dealing with our broker direct and we wouldn't have built if it wasn't for his patience and professionalism. Our supervisor Paul Stringer was great and helped us if we always had a question, selections process took a bit of time but happy with the finish and quality of our home. We would highly recommend Rossdale Homes and to deal with Leon for peace of mind.
---
Chris Eva Luck
Our building consultant Leon Margaritis was amazing from start to finish even coming to our handover, the building supervisor Tom Parker was exceptional on site and very communicative both by telephone and email. We had issues with our neighbour with building on boundary and both Leon and Tom were more than helpful to assist with this frustraing matter which got resolved but did delay our build slightly. The quality of the build is very good and they didn't hesitate to fix any minor imperfections after hand over. I would highly recommend Leon Margaritis and his team to build to my friends and family, his knowledge and detail with council made the preconstruction process very simple and we didnt feel pressured throughout the building process.
---
Ike
Leon Margaritis has been of great assistance in making the drawing of the house plans an easy and rewarding experience. I acknowledge the thoughtfulness and expertise he showed in the preparation for the build. This would have been my second build with Rossdale.
Unfortunately due to ill health I was unable to carry through with the build. During this time Leon has been most understanding.
---
Steph
We started the process of building two houses in September 2015. There was a significant amount of preparation that was needed such as land division and engaging a private planner and organizing some of our own suppliers in addition to your regular council approvals etc. We originally chose a design that was off the plan and altered it so much that it was no longer considered off the plan but a custom design. I assume that this made the price go up quite a bit. During the planning stage, it felt like we had to always check the changes we requested on the plans and drawings at the next meeting because we noticed that these were not always being followed through on. There were bumps along the way where we expected a bit more communication with regards to where the process was at and what/who we were waiting on but once we received all the necessary approvals and signed the contract earlier this year, construction began in February/March and both houses were completed in July. We were amazed at how quickly and smoothly the actual build happened. Overall, we found Rossdale to be fairly reasonable as there were changes we made during the late stage planning process and where we would have been charged an additional fee, Rossdale waived it as a gesture of good will. Huge thanks to Leon (sales consultant), Damien (site / building supervisor) and Steph (customer liaison) who were always willing to assist whenever we called and that was much appreciated.
---
Littlehampton
Hubby & I researched builders for a few years. Signed with one that went bankrupt & almost signed with another until finally going with Rossdale. They are hands down the best quality for the price. We did a lot of negotiation whilst still residing interstate. This was not a problem at all, we found everything straight forward & easy.


We dealt with Leon Margaritis. He was friendly & really helpful without being one of those obnoxious salesmen! He was prompt with phone calls, emails & clear communication. You never got the impression he was making stuff up, when he was unsure he would say so & get back to you with answers.
We found Rossdale very accommodating to our needs/requests. For example we really wanted a natural hardwood timber floor. For this to be done well it needs to be installed before the cabinetry. Builders don't usually allow this, flooring is done after handover. But management were willing to negotiate & work something out so that we could get the finish we desired.


The only thing we weren't 100% happy with was the 2nd fix carpenter. His finishes & attention to detail let the other trades work down. Having said this he no longer works for Rossdale. Being very picky now hubby & I also went over every weekend & swept out the entire house & put rubbish in bin etc so the worken came to a clean site each week (they were pretty messy) Overall we absolutely love our house. Very happy with the product, customer service & experience. We recommend Rossdale if you want a quality home for a great price. There are plenty cheaper but the quality is shocking & plenty that have exceptional quality but they cost a fortune.
---
Angelo
Our building consultant Leon Margaritis was amazing from start to finish even coming to our handover, the building supervisor Tom Parker was exceptional on site and very communicative both by telephone and email. We had issues with our neighbour with building on boundary and both Leon and Tom were more than helpful to assist with this frustraing matter which got resolved but did delay our build slightly. The quality of the build is very good and they didn't hesitate to fix any minor imperfections after hand over. I would highly recommend Leon Margaritis and his team to build to my friends and family, his knowledge and detail with council made the preconstruction process very simple and we didnt feel pressured throughout the building process.
---
R Taylor
Rossdale happily accommodated my self drawn plans and ideas and turned them into a home I love. Leon Margaritis interpreted my non- builder language with patience and good humour. I never felt as though anything was too much trouble to change. Steph Zeilonka , my office contact, answered emails in a timely manner. Matt Leonard project managed in a calm and professional way whilst being genuinely friendly and understanding. Linda Hutchinson - post build maintenance, attended to any concerns in a timely and friendly manner. The maintenance team and builders were friendly and professional.
Building is an exercise in patience. It wasn't the fastest build and its important to keep a perspective. I'd say allow longer than the projected completion date if you don't want to be stressed. Its inevitable that things will change or be delayed and alter the time frames.
Similarly with the pricing. Whilst the initial pricing was very low I allowed quite a bit extra for the final amount. This is because their standard spec range is quite limited and was not to my liking. As with all builders, their show homes include many products and featuresthat are not part of the standard specs.
Rossdale were very happy to include non standard products from other suppliers as long as I obtained written quotes and submitted them.
My house is finished to a high standard and there have only been minor maintenance issues which have been addressed promptly and in a friendly manner. I recommend having other tradesmen inspect the work after handover - they seem to love telling you if something hasn't been done properly. 18 months in I discovered my chimney flu wasn't installed to code and this was promptly dealt with.
The final cost was accurate to the cent with the contract price. Rossdale's fixed price guarantee gives peace of mind. I have recommended them to friends who are currently building.
My only criticism is that the process was not always clear from the written documents I was given and I had unnecessary anxieties about cost penalties that did not materialise.
Rossdale seem to genuinely care about the satisfaction of their customers.
---
Buddhika & Dilrukshi
We are greatly delighted with the service you provided to us during the process of building our dream house and we highly appreciate Rossdale Homes for happily accommodating my self-drawn plans and ideas.

Our building consultant Leon Margaritis was amazing from start to finish and he walk us through the entire process which made it easy because we never built a house before. Your input, professionalism and attention to detail has been outstanding, and made the planning approval process as 'hassle-free' as possible.

Our site supervisor Paul Stringer is an amazing person, we had some issues with our neighbour with building on boundary and Paul was more than helpful to assist with this frustrating matter.

We would have no hesitation in recommending Rossdale Homes to all our friends and family.


---
R Thiele
What things did you like most about the display home in our village?

Construction style and process and the Fixed Price guarantee.

What were the 3 best things about our Sales Consultant that assisted you?

Approachable, willing to make changes then more changes, then more changes.
Available to be contacted any time and very understanding.


---
Goutham
We have had a positive experience, building our first home, with Rossdale Homes. From the preliminary service to the final handover, it had been a smooth sailing. Leon Margaritis (Building Consultant ) is experienced, and he provided us with several valuable suggestions about various aspects at the designing, and contract stages . His service was indeed reassuring, and Leon guided us through the crucial initial stages. The building progress thereafter was hassle free, and went on as scheduled. The customer service coordinator and the interior designer were helpful, with their prompt communication and professional advice, respectively. Tom Parker ( the site supervisor), was professional and amiable; apart from providing comprehensive information about the usage and maintenance matters, his diligence was evidenced by his prompt completion of all the handover items, and ensuring a gratifying experience for us, at the time of final handover. We are satisfied with the overall standard of workmanship, and are particularly impressed with external and internal finishing. I would recommend Rossdale to anyone who are keen to build a quality home.
---
E Stathopoulos
Being in the construction industry the last 25 years and project managing two of my own houses I did think of building my own home again but was referred to Rossdale Homes and thought I would give a builder a chance as I'm very fussy with attention to detail whilst making sure my value and knowledge was going to be accepted part of the building process.
I was lucky to be introduced to Leon Margaritis which he was very understanding, friendly, positive and always replied to my text messages at all hours of the day and weekends, his communication was outstanding and put me at ease allowing not just him but Rossdale Homes to look after my project. I can't fault the preliminary process once signing contracts with Leon, his assistant Nikki was very helpful and whenever I had a query with my selections or pricing she always got back to me in time as I anticipated how busy the industry is at the moment with the building grant.
I'm very involved with the Greek community and can't praise Leon enough for his efforts and by the end of our dealings his Greek did improve dramatically but in all seriousness he has a good name and happy to recommend him to all my family and friends in the Greek community.