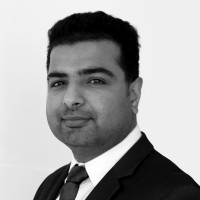 Contact Details
0430 466 001
---
I am available at the following display village:
Rossdale Display Gallery & Head Office
---
My House and Land Packages:
---
What our customers say about us:
H Skeffington
My husband and I started our first-time building journey last year - prior to the Builder's grant being announced.

We had fully researched and met with a number of builders prior, but it wasn't until we visited one of the display homes where we met our-now consultant, Sagar. We were very wary that sales consultants will tell you whatever you want to hear, as we had already had a shocking run-in with other builders.

However, not only did we love one of the designs of Rossdale that was very unique, Sagar was also a unique positive of Rossdale. At no point did he rush or pressure us, he spent many weeks going through every finer detail with us, fitting us in with our own complicated schedules, even whilst having his own family to worry about. To say he went above and beyond is an understatement!

This high-level of service continued past paying any deposit or money, where most builders' service drops off. He was completely transparent, upfront and detailed with all information and costs. There were no "hidden" surprises that we had to worry about. They made every little change that we asked for. At one point we reconsidered the plan of our kitchen, and Sagar organised for us to go up to Mt Barker and meet with another consultant to go through a display home, that wasn't even open to the public yet!! They took time out of their day and opened up a house just so we could fully consider the options we wanted for our own house.

He gave us all suppliers names and contact numbers so we could personally go and make decisions prior to our selections, so that we were fully aware of our costs and stay within budget!

With all of the grant pressure placed on the building industry, at no point was any extra pressure put on us, nor were we rushed through as just another number! Everywhere we went, people would compliment and say how wonderful Rossdale were, and how they all had the same experiences, even one of the rival building companies, had a consultant who had told us that even they were building with Rossdale - that itself has to tell you something.

Once we had completed selections, our file was passed onto Helen - a saint of a woman, who dealt with every single question we had. Although she was also looking after so many other clients, both Sagar and Helen had all the time in the world for us. They followed up every little error, every little change that we wanted to make or question. Due to the grant, our final variations took slightly longer than expected to get back to us, as external suppliers took longer - this also played into the bad timing of being over the Christmas period. Even though it was out of our control, Helen and Sagar kept us up-to-date with every change and update they could, we were never kept in the dark. Once we finally got our variations back we were bewildered by the cost......it was so much lower than we had expected. What is normally an extreme upgrade with other builders was within the normal range for Rossdale, and any extra upgrades were minimal because Rossdale had such great suppliers that the mark-ups costs were minimal!!

We are now at construction stage and cannot wait to move into our new home once completed. But CANNOT FAULT the incredible service we have (and still) received. We have recommended Rossdale to all our family and friends, and now our parents and friends are building with them too. We are beyond lucky and privileged to have an INCREDIBLE consultant - Sagar Wadhwa, and an AMAZING File Coordinator - Helen Grammatopoulos. They are the reason we have enjoyed our building process, and are the reason it has gone as smoothly as it has! They have had our backs and best interests at heart since day one! We cannot thank them enough, and could not recommend them enough!! Rossdale is lucky to have two amazing employees!

They are the reason we truly believe that Rossdale's "trust is a must" is guaranteed!
---
S Beri
I have built a house through Rossdale and my experience with them has been very good, even in these pandemic and shortage of timber they built the house in less than 6 months. Sagar, Matt and Helen have all been very helpful through the course of building the house from start to finish. I would highly recommend to built the house with ROSSDALE.
---
L Leopold
"Well, our build is done and we can't thank Rossdale enough. For many years I have haunted display homes waiting for the right opportunity to rebuild - and no, I wasn't daunted by our first build 38 years ago.
Rossdale had the home that we both wanted to build - our forever home. They worked with us offering the right advice where needed and incorporated the changes we wanted to make to their Springfield plan.
The outcome was certainly worth waiting for. No build is without its hiccups, we had some but they were dealt with professionally and promptly with no stress. We highly recommend building with Rossdale and yes, we would do it all again with Rossdale! Our thanks especially to Sagar, Helen, Nikki, Paul and all the tradies - great work guys!"